MAGICAL H(E)ART
Gothic and Baroque dreams of two young Bolognese talents reinterpreted in imaginative prints and exquisite tailoring.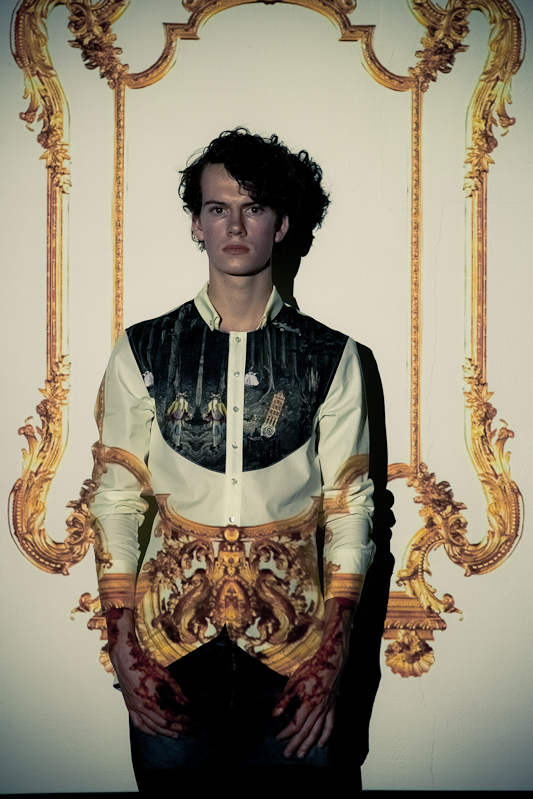 A/W 2010 - Man, left; The Elegant Universe - Man, A/W 2012-13, right
" Baroque is ever present in Leitmotiv . Not a single collection of ours can go without it – it's the idea of the work of art, from furniture to clothing, to dance ... every single thing was a work of art," – Fabio Sasso.
Clothes that become canvases (or, better else, projection screens) opened to fantasy worlds, neo-Baroque, neo-Gothic, neo-Renaissance. Real condensed history of the image: the fantastic worlds of Bosch played out in digital "low-tech". A look that's unique and instantly recognisable!
AMA-ZONAS, S/S 2012
Behind Leitmotiv are Fabio Sasso and Juan Caro,two experts in art and art history, who presented their first collection in their own studio-flat in Bologna in 2006, and since then have created 6 imaginative collections of uncompromised elegance, supported and promoted by such fashion authorities as the Milan Chamber of Fashion , Vogue Italy and the talent-scouting award Who's On Next .
Juan Caro and Fabio Sasso
The creations of Fabio Sasso and Juan Caro are for those who take their imagination very seriously: Leitmotiv is always distinguished by a thorough approach to fabrics, never cheap, and with close attention to tailoring "Fabio is a real tailor, a pure craftsman!" – tells me one of their devoted followers, a contemporary art gallerist from Bologna.
Light Motiv – Woman, A/W 2011
The clothes at first sight have a strong visual impact for the choice of patterns and subjects (precisely the leitmotifs), optically mesmerising, with peculiar yet perfectly executed cut. Their most recent collection is A/W 2012-13 The Elegant Universe (L'Universo Elegante) – Man and Woman, inspired handbags and fabulous shoes: every piece, true to the designers' acclaimed style, evokes complex, fairytale and surreal sceneries.
The Elegant Universe – Man, A/W 2012-13
The number of garments Leitmotif put on the market is limited ( indeed for some items it's no more than 30), this allows them to be able to supervise every detail personally. They are the elitists of creative fashion, if you wish.
Over the past 3 years, however, they have successful teamed up with FURLA (as part of the Furla Talent Hub) to create a series of stunning capsule collections of handbags and accessories: S/S 2012 inspired by the mystical motifs of the Tarot; the romantics and surrealism of The Little Prince for S/S 2011; and the magical journeys of Wizard of Oz in A/W 2010.
LEITMOTIV for FURLA
2012
, left; and
2010
, right
A Leitmotiv Woman is always very feminine, yet not afraid of making the creative statement of her dreams and visions. I would especially highlight the boldness, originality and colours of the S/S 2012 Ama-Zonas, inspired by the designers' voyages, both real and imaginary:
AMA-ZONAS – Woman, S/S 2012)
Their S/S 2012 Man is a searcher of new adventures, a lover of nature and its intense colours. Romantic and pensive, yet, unlike with many other designers, still managing to retain a bold masculine appeal.
AMA-ZONAS – Man, S/S 2012
For more information regarding Leitmotiv please contact them on info@leit-motiv.com
Anna-Elizaveta Smirnova a-e.smirnova@greenpebblesblog.com
Labels: ama zonas, anna elizaveta smirnova, baroque, bologna, furla, l universo elegante, leitmotiv, tailoring, the elegant universe, vogue italia, whos on next